Take a 360 Virtual Tour
Follow student Savannah Dicus as she gives a tour of her Ponder Hall residence and talks about what it's like to live there. Click on the video and drag your mouse for a 360-degree view of the room.
Ponder Hall Room
Ponder Hall Common Area
Ponder Hall, renamed in summer of 2018 after Chancellor Emerita Anne Ponder, houses 300 students in single and double rooms arranged in suites of four to six students. Each suite also contains a common living space and a large bathroom. Features include a rooftop lounge and the Down Under, commonly referred to by students as "Dunder", a late night dining concept, which offers snacks, made-to-order subs and salads, and Starbucks coffee drinks.
Suite arrangements may vary depending on assignment. Dimensions for single and double rooms vary slightly from room to room.
The approximate measurements are:
Double Room – 14′ x 13′
Single Room – 8′ x 13′
Ponder Hall houses one (1) Residential Learning Community (RLC);  the CLOUD RLC. For more information on the RLC in Ponder Hall, please visit our RLC page.
To make a reservation for Ponder Hall Room 011, please contact the front desk of the Housing Office at (828) 251-6700 or reslife@unca.edu.
To make a reservation for Ponder Hall 5th Floor Sky Lounge, please contact Area Director Christopher Hanhan at chanhan@unca.edu.
Amenities Include:
One microwave-refrigerator per room
Carpeted Rooms
Air-conditioning
Laundry rooms
Community kitchens
TV lounges, including a rooftop lounge
Vending area
Several study lounges, including designated quiet lounges
Computer lab and printing
High-speed Internet – one port per student and wireless in every suite
Sub Shop
Floor Plans
2 Single Rooms, 1 Double
2 Single, 2 Double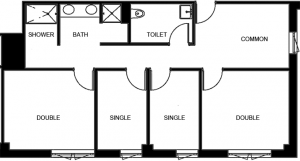 4 Single, 1 Double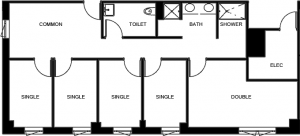 Approximate furniture dimensions:
Dresser
Desk
Bed
Height: 30″
Height: 30″

Height (lofted*): 5′

*from bottom of mattress to the floor. Height can be lowered

Width: 28″
Width: 48″
Mattress Length: 80″
Depth: 24″
Depth: 24″
Mattress Width: 3′
Physical Address
Ponder Hall
300 Field Drive
Asheville, NC 28805