Take a 360 Virtual Tour
Follow student Em Ashworth as she gives a tour of her South Ridge residence and talks about what it's like to live there. Click on the video and drag your mouse for a 360-degree view of the room.

South Ridge and West Ridge are situated in a wooded area near the Botanical Gardens at Asheville. South Ridge houses 98 students and West Ridge houses 128 students in double rooms. Both halls are identical in appearance and face a landscaped courtyard.
South Ridge is our Substance-Free Wellness Community Residence Hall. Students who live in South Ridge are required to sign a substance-free agreement.
NEW for fall 2023! West Ridge 3rd floor is home to our all new Honors housing for incoming first year students.
Two rooms (4 people) share an adjoining bathroom. NEW for fall 2023! 14 single room options were created in South Ridge and 16 single room options were created in West Ridge, by converting double occupancy rooms to single occupancy.
 Amenities Include:
One microwave-refrigerator per room
Carpeted rooms
Air-conditioning
Laundry room
Community kitchen
TV lounge
Vending area
Several study lounges
High-speed Internet – one port per student and wireless hot spots
Parking deck
Approximate dimensions:
Double Room: 13′ x 15'
Double Window: 6′ x 5′
Single Window: 4′ x 5′
South Ridge & West Ridge Floor Plan
Approximate furniture dimensions:
Dresser
Desk
Bed
Height: 30″
Height: 30″

Height (lofted*): 5′
*from bottom of mattress to the floor. Height can be lowered

Width: 30″
Width: 32″
Mattress Length: 80″
Depth: 24″
Depth: 24″
Mattress Width: 3′
The closets in South Ridge and West Ridge Halls are 5.5′ high and 40″ wide, with a rod for hanging clothes, and a shelf with 29″ of space for storage above the hanging rod.
Sample Room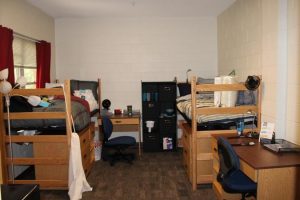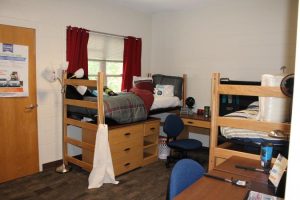 Physical Address
South Ridge Hall
400 Ridge Hall Drive
Asheville, NC 28804
West Ridge Hall
300 Ridge Hall Drive
Asheville, NC 28804