Take a 360 Virtual Tour
Follow former SGA President, Demon Thomas, as he gives a tour of his Aspen Hall residence and talks about what it's like to live there. Click on the video and drag your mouse for a 360-degree view of the room.
Aspen Hall Room
Aspen Hall Common Area
UNC Asheville's first apartment-style housing for upperclass students, increases the available on-campus living options by almost 300-beds. Designed to foster community, the six buildings feature four-, five- and six-bed configurations, with laundry rooms on site and full kitchens in each apartment. The sixth building, Chestnut Hall, is located along University Heights and includes the Donna and David Bailey Welcome Center, a fitness room, and an apartment for The Woods community director. The names of the individual buildings are namesakes of North Carolina native trees: Aspen Hall, Beech Hall, Cedar Hall, Chestnut Hall, Magnolia Hall, and Willow Hall.
The Woods offer streaming IPTV, with a Roku stick supplied to each unit for optimal streaming experience. Students can access Hulu, Netflix, and other streaming TV with the Roku stick.
In addition to multiple interior/exterior WiFi access points, each unit includes two hard-wired internet ports in the apartment living room.
With each unit offering a full-size kitchen with full-size appliances, no meal plans are required; however, students do have the option to purchase a block meal plan. Because each kitchen is equipped with a full-size refrigerator, stove, and microwave, micro-fridges do not come with the units.
Aspen Hall
400 Founders Drive
Asheville, NC 28804
Beech Hall
300 Founders
Asheville, NC 28804
Cedar Hall
200 Founders Drive
Asheville, NC 28804
Magnolia Hall
100 Founders Drive
Asheville, NC 28804
Willow Hall
500 Founders Drive
Asheville, NC 28804
Unit Layouts and Renderings
The unit layouts below reflect the actual furniture, finishes, and colors that will be used in The Woods apartment-style residence halls.
Room dimensions vary slightly; however, below are approximate dimensions:
Single rooms: 11.5′ x 9′
Double rooms: 12′ x 14′
Floor Plan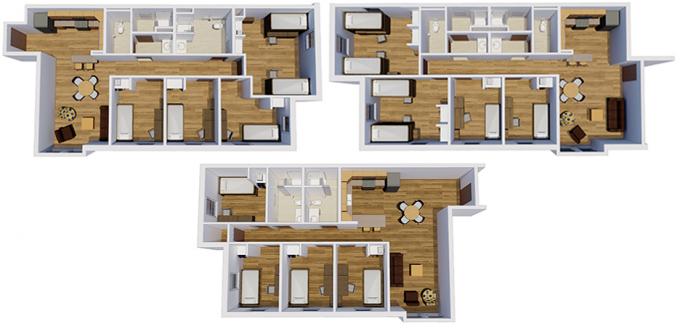 Kitchen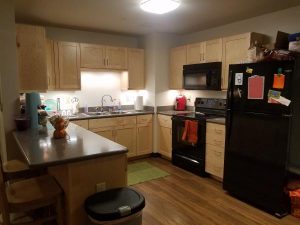 Living Area