"On campus advantage" year round
Year round community housing is available in The Woods for the entire academic year (not available to new, first time freshmen), inclusive of winter and summer breaks. The year-round contract period is May-to-May, and students can apply during the reapplication period in early spring. It truly will be a place you can call home for your entire year. For the 2021-2022 academic year, year-round housing will be in Cedar and Magnolia Halls.
UNC Asheville's first apartment-style housing offers 294 beds, with four, five, and six-bed configurations, with a mixture of single and double rooms. Each apartment has a full-size kitchen. Each building also has laundry rooms.
Students are required to be enrolled as a full time student for semesters of their residency (with exception of summer, provided they are enrolled as full time students for the following fall semester). Students who need to remain on campus during break periods, such as off-campus employment, are encouraged to consider being a year-round resident.
The year-round housing costs for The Woods in a double room for the 2021-2022 academic year is $4,994 per semester, and a single room in The Woods is $5,623 per semester. These rates include summer, and summer is not a separate billable rate. This will allow you to stay on campus year-round, including all break periods when our non-year round residents must vacate the residence halls.
Apartment-style Residence Halls Floor Plans
6-Student Unit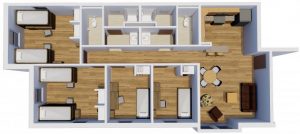 5-Student Unit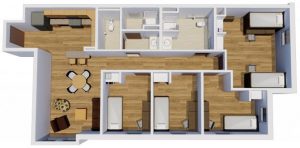 4-Student Unit